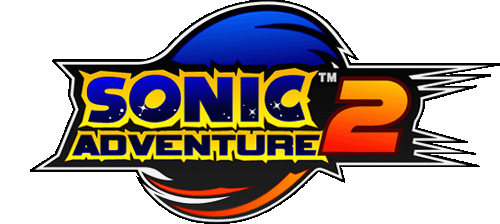 HISTORY
Sonic Adventure scored quite a success along with the launches of the Dreamcast. A sequel to the game was a logical move from Sega and Sonic Team.
During this time Segas financial problems have meant that the company is now focused on providing software only. It seems as though Dreamcasts days were numbered.
Sonic was approaching his 10th birthday and Sonic Team delivered despite the Dreamcast market reducing in size. Sonic Adventure 2 was released June 23rd 2001 world wide exactly 10 years after the original Sonic the Hedgehog arrived on the Mega Drive - June 23rd 1991.
Sonic Adventure 2 was to be the last Sonic game on the Dreamcast and the last ever on a Sega console. The game also became the first Sonic game to appear on another console, namely the Nintendo Game Cube.

STORY
Dr Robotniks grand father has been working with a military agency called GUN for almost 50 years on a top secret project. So secret that the research has been carried out on Space Colony ARK just outside of the Earth.
Robotnik breaks into the headquarters of GUN to learn of the secret. There he discovers a black hedgehog resembling Sonic calling himself Shadow. Robotnik breaks him out only for him to cause problems for the people on Earth whilst on a personal quest of his own. Sonic is then captured by GUN thinking he is Shadow.
Sonic escapes and finds out he has been mistaken for Shadow who believes that he is the ultimate life form with his ability to control time by the means of Chaos Control. A force located inside of the Chaos Emeralds.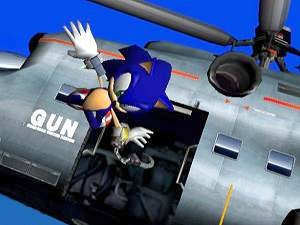 Sonic is recaptured by GUN only to be broke out by Amy and Tails.
While this is going on Knuckles is fighting off a thief with her eyes on the Master Emerald. Rouge the Bat wants the emerald but Robotnik shows up to take it himself. Knuckles shatters the precious gem to avoid it falling into their hands.
GAMEPLAY
The gameplay to Sonic Adventure 2 is similar to that of Sonic Adventure with some differences. First off the Adventure Fields are gone. These are replaced with cut sequences taking place between each action stage. The stages are not actually called action stages any longer.
Sonic Adventure 2 has two distinct routes through the game. This is the ability to play as the hero to save the day or play as the enemies and make the planet your own. There are two sets of characters for each mode.
Hero
Sonic
Tails
Knuckles
Dark
Shadow
Robotnik
Rouge
Both stories share similar traits gameplay wise. Sonic and Shadow both have levels where speed is of the essence, Tails and Robotnik are the mechanical rides and Knuckles and Rouge are both after Chaos Emerald treasure. You are not able to choose a character to play with. Each stage is designed for a specific character.
Hero Story

Stage 1
City Escape

Stage 2
Wild Canyon

Stage 3
Prison Lane

Stage 4
Metal Harbour

Stage 5
Green Forest

Stage 6
Pumpkin Hill

Stage 7
Mission Street

Stage 8
Aquatic Mines

Stage 9
Route 101

Stage 10
Hidden Base

Stage 11
Pyramid Cave

Stage 12
Death Chamber

Stage 13
Eternal Engine

Stage 14
Meteor Herd

Stage 15
Crazy Gadget

Stage 16
Final Rush
Chao World

Chao World
Dark Story

Stage 1
Iron Gate

Stage 2
Dry Lagoon

Stage 3
Sand Ocean

Stage 4
Radical Highway

Stage 5
Egg Quarters

Stage 6
Lost Colony

Stage 7
Weapons Bed

Stage 8
Security Hall

Stage 9
White Jungle

Stage 10
Route 280

Stage 11
Sky Rail

Stage 12
Mad Space

Stage 13
Cosmic Wall

Stage 14
Final Chase
Chao World

Chao World
Opening Sequence (Logo) [MP3]
Back to 128-Bit Index
This Page is also under loads of construction