SONIC THE HEDGEHOG 2
MEGA DRIVE/GENESIS
SEGA/SONIC TEAM 1992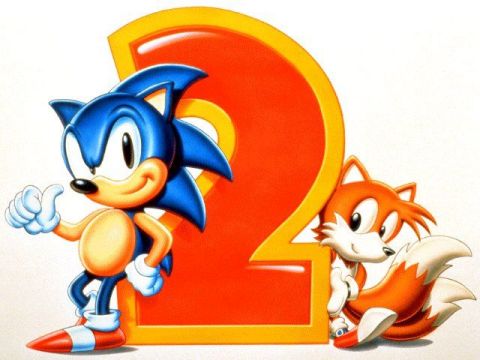 THE ZONES
This is a brief introduction to the zones 'restored' in the Long Edition of Sonic 2.
For more historical information about these zones check out the Secrets of Sonic 2 Feature.
As the name suggests in a dense wooded area that shows signs of a previous civilization with giant trees hollowed out with tunnels and bridges set high up in the greenery. There are plenty of loops and collapsing sections also.
Robotnik repeats one of this previous attacks only in a more strategic setting. Two tall ancient pillars emerge from the trees each containing four arrow launchers only now there is a perilous drop between them. Robotnik hovers above them in his pod with a giant mallet attached to the front. When he bangs one of these pillars an arrow is launched. Jump on the arrows to get the hits in.
Set in an arid desert with huge cacti littering the landscape. Sand falls as waterfalls and some stretches are sinking sand. Caverns will divert to areas that are shaded from the sun and thus temperatures plummet and the landscape turns to an icy blue.
Robotnik has modified his Egg vehicle to operate on the sand and he again charges at Sonic with a huge mounted drill.
An eerily dark cityscape under a storm. Scale the tall buildings and travel amongst the rooftops to avoid whatever wiped this city out. The skeletal remains of some victims hang disturbingly in stretches of water.
Robotnik returns with another water attack. Getting wet will be very bad.
It is a mysterious underground area of ancient structures that has bridges, transparent tunnels, tight spaces and plenty of collapsing platforms all against a glittering backdrop with waterfalls. These create sections of weird purple water that Sonic must traverse.
Robotnik has also made it down there will his drilling attachments to his pod. He will drill into the rock above and reign down debris.
Robornik's orbiting base is enormous. As such there are tonnes of ramps and loops allowing Sonic some serious speed and plenty of tubes too.
The start of act 3 will be with zero rings. The first engagement will be with the Mecha Sonic. Robotnik watches in the background. Not a very good resemblance to yourself, however, a little challenging. He will be vulnerable when he stands rotating the blades on his back. Hit him as close to the face as you can. Touch the blades and you die. Should you spend a long time on this Robotnik will start to throw clusters of blades into the fight.
After defeating Mecha Sonic, Robotnik is on the run once again. Chase him to his final resort, the EGG - a huge robot (compared to Sonic anyway) that looks very much like Robotnik himself this is quite tricky to defeat. You can only damage it in the mid-section. You can get in a few hits while he's walking but watch the spikes on the arms. They detach from him and fly at you. Good timed jumps avoid these.
When he disappears up into the air he'll begin to target. Prepare a spin dash. When he locks on let go. He'll come crashing down and throw his stomach out. Hit him now only once and then back off. Try not to get anywhere behind him as cluster bombs are dropped.
If Sonic should die the act resets back to the encounter with Mechna-Sonic.
Related
Sonic 2 Long Edition Screenshots
---