Select a platform and game...

Hi, and welcome to my mini-site dedicated to the most famous character in gaming - Sonic The Hedgehog.
Sonic is now a generational icon. Older gamers will remember the freshness and the impact of the first games in the early nineties and younger gamers have experienced the evolution of Sonic from 2D into 3D.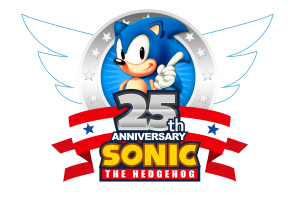 If you never experienced the Sonic craze it is still possible to play the original games with the recently released compilation titles such as Sonic Mega Collection Plus and the recent release of the original Sonic The Hedgehog on Xbox Live.
After 25 years, he is still SEGA's mascot. Though perhaps somewhat faded after recent titles, he is still driving the name across their new multi-platform ambitions.
Games featuring Sonic have appeared on all of SEGA's consoles and on occasion in the arcades with an addition on the Neo Geo Pocket Colour also. Sonic Adventure 2. marked the last Sonic title on a SEGA console - the Dreamcast in 2001. Since the altering of Sega's strategy Sonic has now appeared on an array of platforms such as Gamecube, Xbox as well as hand-helds such as Gameboy Advance.
Sonic's popularity is still very high proving that his appeal is not limited to any platform he is on.
In this area of the site you will find in-depth articles about Sonic games (and some of the related ones) with some extra stuff such as secrets and soundtracks. This area is developing all the time so check back often.
With the launch of the Mega Drive in 1989 SEGA were beginning to make a name for themselves in the console industry. The Mega Drive (Genesis in the US) sales were increasing especially in the western markets with some great games and arcade conversions.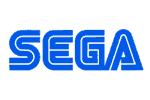 What SEGA needed was now something singular that would represent them - a company mascot. They needed something as important to them as that fat Italian plumber meant to Nintendo. The character was to be loved by all and perfectly demonstrated the performance of the Mega Drive; a cutting edge 16-Bit console at the time. This character would be the competition for Mario.
At the time SEGA had already a collection of game heroes: Alex Kidd, Shinobi and Wonder Boy; each having several games and generally identifiable with the Sega brand. These came mostly from the 8-Bit (Master System) era but SEGA were in a new market and wanted something new and original that would become instantly recognisable.
In 1990 an internal contest was held at SEGA. Two members from then AM#8 studio, lead programmer Yuji Naka and character designer Naoto Ohshima delivered several possibilities which ranged from an armadillo to a rabbit.
After further deliberation a hedgehog was chosen because the image of the spikes on it's back were perfect for projecting the image of fast-action attacks and because in English "hedgehog" had a good feel to it. The name 'Sonic' represented the speed of the Sega's hardware. The character was then created - Sonic the Hedgehog.
Once finalised it was time to put it into game. Initially it was conceived that Sonic would move about on the screen, pickup objects and hurl them to destroy enemies. The design concept behind a Sonic game was to be simple yet playable so the initial movements of the character were altered to a single roll for attacking. The speed was cranked up, a touch of unique style and use of bright colours and Sonic the Hedgehog was complete. In the process AM#8 became Sonic Team.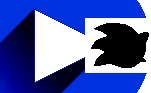 On June 23rd 1991 Sonic The Hedgehog was released on the Genesis (the US version of the Mega Drive). The game marked explosive popularity of the console and the Sega name. Sonic took the side-scrolling platform concept and redefined it totally outclassing any competition. The European and Japanese versions followed shortly afterwards.
More in-depth information about Sonic's origins can be found at the following sites.
For an in-depth article checkout Sega16.com
http://www.sega-16.com/2005/06/history-of-sonic-the-hedgehog/
Ultimately, Sonic The Hedgehog went on to have a huge impact on the games industry and that still resonates somewhat today spanning more than 1 generation of gamers. It's pretty difficult to image a world without the blue spiked wonder.
With games continuing to be announced and now covering several platforms it seems that Sonic could well continue to be with us for a long time!
About Sonic Team
It is easy to assume that Sonic Team have produced only Sonic games. This is not the case. They are also behind some of the most highly regarded games around. Examples include NiGHTS Into Dreams and the Phantasy Star Series.

A fantastic repository of information about Sonic Teams other titles can be found at Green Hill Zone.
Ongoing machinations at Sega over the last few years have meant that Sonic Team no longer exist as a distinct creative unit though the name is still used. Nearly all the original members have since moved on most notably being the founder Yuji Naka who left in 2006 (taking several Sonic Team members with him) to set-up an independent company called Prope.
Sonic fans cover the a wide spectrum from the casual player to the enthusiast hacker to the hardcore creative making their own games. The following examples serve as an introduction of what lies beyond just playing through a Sonic game of your choosing.
Secrets and Hacking
As with most games during the development process the make up of the game is subjected to various alterations. Sections are added, edited, deactivated and on many occasions taken out and left on the cutting room floor never making it's way into the final version of the game. In modern times this is primary due to time constraints, however in the days of cartridges the amount of available space was a major issue.
The Sonic the Hedgehog series of games is no exception. For several years there has been an active scene around the hacking of Sonic game titles. There are numerous websites devoted to the topic of hacking sonic games to see what mysteries are lying in the code.
Out of the entire series the most famous game has to be Sonic 2 for the Mega Drive. The secrets this game held was a driving force behind the Sonic hacking scene. You can see some of the secrets on this page. It's dissection opened a new field in Sonic Fandom.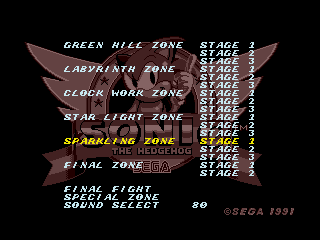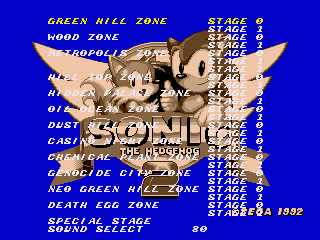 For the older games, the dark art of emulation, hex editors and various other means it's possible to peer into the games and locate sections that were never "activated" in the final retail product yet the code is there. This could be unused objects, enemies, character animations or even abilities.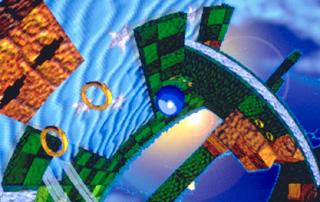 Discovering extra content even in an incomplete form is quite an achievement plus it keeps us Sonic fans talking and swapping theories etc. Is an important part of the Sonic Fandom phenomenon.
Perhaps at the top (at the moment) is the discoveries of Sonic Xtreme; the canned killer app for the Saturn. It is possibly becoming more famous than Sonic 2 for secrets since it was never released.
The following sites are well worth checking out as part of the Sonic secrets and hacking scene.
The Sonic 2 Beta Page - perhaps the most prevalent in terms of discussion and discoveries.
SoST - A well documented look at secrets with many images and media content.
http://sost.emulationzone.org/
Sonic Cult - a bespoke fan site with some impressive discoveries.
Fan Made Projects
Fan made projects show the dedication and spirit of Sonic fans. Some re-engineer existing games and are playable with emulators such as Sonic 2 Long whereas others attempt to make entire new games such as Sonic XG and Retro Sonic both which seeks to create the original feel of early Sonic games.
The quality of work is generally very high even surpassing Sega's output of late!. These projects show extremely talented people demonstrating incredible efforts with limited resources compared to Sega.
The following are examples of some fan based projects.
Sonic 1 Extended Edition
http://info.sonicretro.org/Sonic_the_Hedgehog_Extended_Edition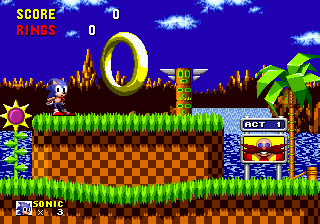 ---
Sonic 2 Long
http://info.sonicretro.org/Sonic_2_Long_Version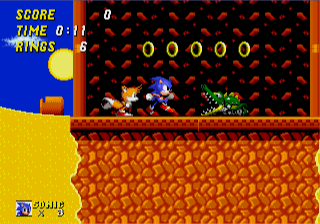 ---
Retro Sonic
http://rsonic.randomsonicnet.org/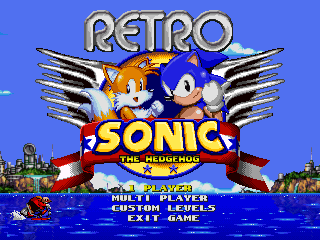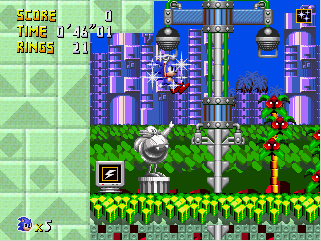 ---
Sonic XG
http://www.williamg.plus.com/SXGWEBSITE/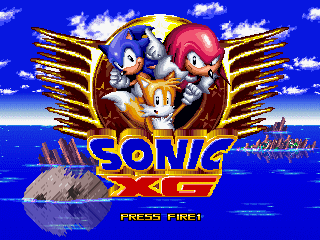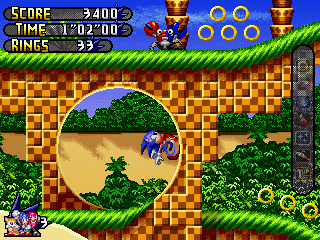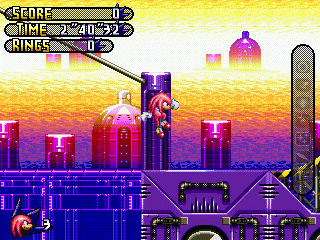 The table below has a list of game releases, re-releases and ports in chronological order and some upcoming. It does not mean the games stories are in chronological order nor does it include cameos.
Any text that is blue have game features on this site and are therefore links. If the link is in the platform column will be to that specific version.
| | | |
| --- | --- | --- |
| Year | Title(s) | Platform(s) |
| 1991 | Sonic The Hedgehog | |
| | Sonic Eraser | Mega Drive/Genesis (MegaNet Download) |
| 1992 | Sonic The Hedgehog 2 | |
| 1993 | | Mega-CD/SEGA-CD |
| | | Arcade (System32) |
| | | Master System and Game Gear |
| | Sonic The Hedgehog Spinball (Sonic Spinball) | Mega Drive/Genesis, Master System and Game Gear |
| 1994 | | Game Gear |
| | | Game Gear |
| | Sonic The Hedgehog's Gameworld | SEGA PICO |
| | | Mega Drive/Genesis |
| | | Mega Drive/Genesis |
| | Dr. Robotnik's Mean Bean Machine | Mega Drive/Genesis, Master System and Game Gear |
| 1995 | | Game Gear |
| | Tails' Sky Patrol | Game Gear |
| | Tails Adventure | Game Gear |
| | | Game Gear |
| | | 32X |
| | Sonic Compilation | Mega Drive/Genesis |
| 1996 | | Mega Drive/Genesis |
| | | Master System and Game Gear |
| | | Arcade (Model 2B) |
| | | PC |
| 1997 | | Saturn and PC |
| | | Saturn |
| | | Saturn and Tiger Game.com |
| | Sonic & Knuckles Collection | PC |
| | Sonic The Hedgehog Screensaver | PC |
| 1998 | | Dreamcast |
| | | Saturn (Japan only) |
| | | PC |
| 1999 | | NeoGeo Pocket Colour |
| | | Dreamcast (US and Europe) |
| 2000 | Sonic Shuffle | Dreamcast |
| 2001 | | Dreamcast |
| | Sonic Advance | Gameboy Advance |
| 2002 | Sonic Advance 2 | Gameboy Advance |
| | | Gamecube |
| 2003 | | Xbox, GameCube and PS2 |
| | Sonic Battle | Gameboy Advance |
| | Sonic Pinball Party | Gameboy Advance |
| | SonicN | Nokia Ngage |
| | Sonic Spinball (SEGA Smash Pack) | Gameboy Advance |
| | | GameCube |
| | | Gamecube |
| 2004 | Sonic Advance 3 | Gameboy Advance |
| | Sonic Heroes | PC |
| | | PC |
| 2005 | | Xbox, GameCube and PS2 |
| | | Xbox and PS2 |
| | Sonic Gems Collection (Sonic The Fighters, Sonic CD and Sonic R) | Gamecube and PS2 |
| | | DS |
| 2006 | Sonic Riders | Xbox, GameCube, PS2 and PC |
| | Sonic The Hedgehog (Sonic 06/Next-Gen) | Xbox 360 |
| | | Gameboy Advance |
| | | PC |
| | Sonic Rivals | PSP |
| 2007 | Sonic Rush Adventure | DS |
| | Sonic The Hedgehog (Sonic 06/Next-Gen) | PS3 |
| | Sonic Rivals 2 | PSP |
| | Sonic and The Secret Rings | Wii |
| | Mario and Sonic At the (Beijing) Olympic Games | Wii |
| | | XBLA and Wii-VC |
| | | XBLA and Wii-VC |
| 2008 | Sonic Unleashed | Xbox 360, Wii, PS3, PS2 and Mobile |
| | Sonic Riders: Zero Gravity / Sonic Riders: Shooting Star Story | Wii and PS2 |
| | Sonic Chronicles: The Dark Brotherhood | DS |
| | Mario and Sonic At the (Beijing) Olympic Games | DS |
| 2009 | Sonic and The Black Knight | Wii |
| | Mario and Sonic at the Olympic Winter Games | Wii and DS |
| 2010 | Sonic Colours | Wii and DS |
| | Sonic Free Riders | Xbox 360 Kinect |
| | Sonic The Hedgehog 4 Episode I | Xbox 360, Wii, PSN and iOS |
| | Sonic The Hedgehog | iOS |
| | Sonic Adventure | XBLA and PSN |
| | Sonic Classic Collection | DS |
| 2011 | Sonic Generations | Xbox 360, PS3, PC and 3DS |
| | Mario and Sonic at the London 2012 Olympics | Wii |
| | | XBLA, PC-Steam, iOS |
| 2012 | Sonic The Hedgehog 4 Episode Metal | Xbox 360, Wii, PS3 and iOS |
| | Sonic The Hedgehog 4 Episode II | Xbox 360, Wii, PS3 and iOS |
| | Mario and Sonic at the London 2012 Olympics | 3DS |
| | Sonic Jump | iOS |
| | Sonic Adventure 2 | XBLA, PSN and PC-Steam |
| 2013 and Coming Soon... | Sonic The Hedgehog CD (Sonic CD) Remastered | Ouya |
| | Sonic The Hedgehog 4 Episode I | Ouya |
| | Sonic The Hedgehog 4 Episode II | Ouya |
| | Sonic The Hedgehog CD Remastered | iOS and Android |
| | Sonic Dash | iOS and Android |
| | Sonic Lost World | Wii U |
Phantasy Star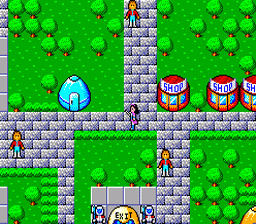 Created when the team was still called AM8, the original Phantasy Star contained some fresh features that were stunning at the time such as pseudo-3D, maze-like dungeons that could be explored in real time and a battery backed cartridge in which to save your position. Kicking off the now widely popular franchise this is a difficult yet rewarding experience that stands up well even today.
Ristar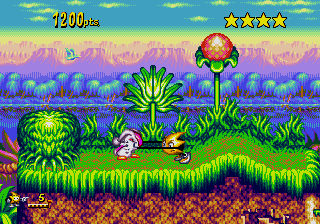 Ristar uses his extendible arms to move around and pickup objects, the same gameplay mechanics that were planned for Sonic originally before the focus on speed. A superb that unfortunately should have faired better being buried in the 32-Bit wave. It is easily picked up cheaply and can be found in Sonic Mega Collection and Mega Collection Plus.
Chu Chu Rocket
With a simple premise (cat and mouse board game puzzle - with rockets!) and addictive gameplay, Sonic Team created a multi-player experience with online functionality, now recognised as being the first commercially successful considered release that could be played across the Internet. Later given away for free to lure Dreamcast gamers online, the frantic guide-mice-into-rockets brainteaser still delights to this day.
It was later ported to the Gameboy Advance.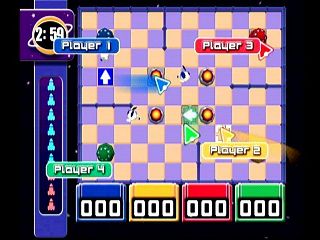 NiGHTS Into Dreams
With evocative themes of nightmares, dreams and human personalities, this was no ordinary gaming experience. Taking control of one of two children and ultimately the enigmatic NiGHTS himself, the analogue stick is used to guide your avatar fluidly around wonderfully rendered 2D/3D dreamscapes, as a sophisticated scoring system and remarkable, evolving musical score envelop you along the way.
Until 2007 there had been no mention of any sequel being developed despite the constant petitioning from fans. Sonic Team however teased fans with segments in games such as Sonic Adventure and the EyeToy on PS2 with the most being a mini-game that was downloadable to the Gameboy Advance in Phantasy Star.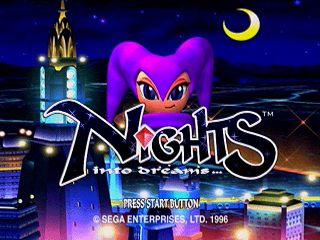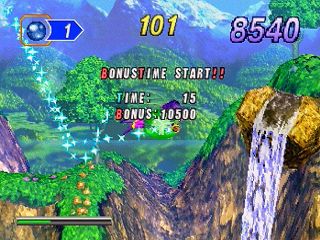 Burning Rangers
The final days of the Saturn produced some great titles as developers squeezed miracles out of the hardware. Sonic Team really hit the mark with this rip-roaring 3D fire fighting romp. With manga styling and cutscenes, commendable replay value and a mental sci-fi plot, this is an A-class platform action game. Like many Sonic Team classics, fans have demanded a sequel ever since yet there has been no news on any development. A superb title that is able to fetch a fair price.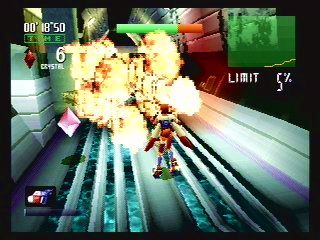 Samba De Amigo
A monkey named Amigo implores you to stand bow-legged in front of your TV, frantically gyrating, with maracas all over the shop. Add psychedelic graphics, and the only recorded case of "Macarena" appearing acceptable this rhythm based action gem was a masterstroke and a real piece of gaming history.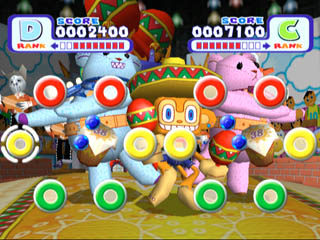 It was revealed in 2007 that a remake is destined for the Nintento Wii console.
Puyo Pop Fever
A remake of the classic puzzler from compile. At the core is the same fast and furious gameplay that has remained unchanged for over a decade. Sonic Team took the game and remade it into their own adding new features, new cast characters, and gameplay elements along the way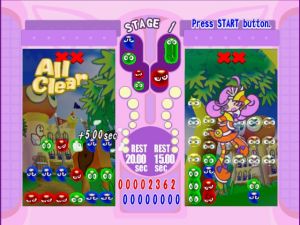 This was a multi-format release which also included the Dreamcast.
Puyo Puyo has also appeared in the form of Dr Robotniks Mean Bean Machine.
Billy Hatcher and The Giant Egg - Game Cube
One of the very few new concepts since the demise of the Dreamcast. The game is a platformer in the vein of Sonic Adventure yet there could be some elements of NiGHTS thrown into the mix.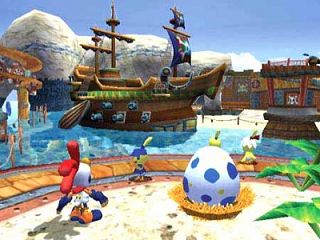 Billy is a young boy who rescued a helpless chick from two attacking crows and was transported to Morning Land with a chicken suit with the ability to move use and hatch giant eggs. These eggs contained helper critters that were used to ultimately defeat the evil crows and bring about sunrise.
Unfortunately the shallowness of the gameplay meant that Billy did not appeal to many despite sporting some superb graphics from the Game Cube.